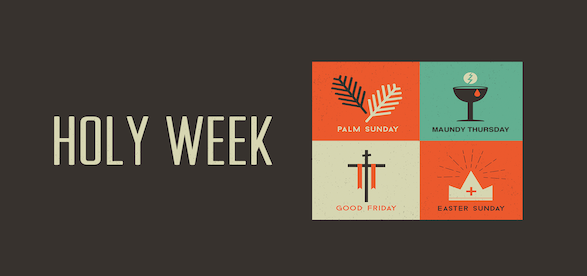 Join us here at Ivy Chapel as we celebrate Holy Week, and mark the journey to Easter.
Sunday, April 14 at 10 a.m. for Palm Sunday worship as we celebrate Jesus' entry into Jerusalem.
Thursday, April 19 at 7:30 p.m. for Maundy Thursday, sometimes called Holy Thursday, the night of the Last Supper.
Friday, April 20 at 7:30 p.m. for Good Friday worship commemorating the crucifixion of Christ.
On Easter Sunday, at 6:30 a.m. we gather for Sunrise Worship to celebrate the resurrection.
We gather again at 10 a.m for our Easter worship service. He is Risen!
It will be our joy to serve as the host congregation for this year's UCC Community Thanksgiving Worship at 7:30 P.M. Tuesday, November 20.
Our congregation will share with St. Thomas UCC and St. John's UCC-Chesterfield in what has become our traditional shared worship service.
An opportunity to participate in a combined choir is being offered to everyone from our three congregations who would like to participate. The Chesterfield Community Ringers will also offer special music during this worship.
We are truly blessed that Rev. Tyler Connoley, our Missouri Mid-South Conference UCC Minister of Search and Call Discernment, will preach.
Offering gifts from this evening will be given to Circle of Concern. A reception including refreshments for all of our guests will follow worship in Fellowship Hall. This occasion thanking God for our blessings is a valued tradition which our area UCC congregations enjoy together.
Let's get rolling on VBS 2018 at Ivy Chapel! Get your kids ready for the ride of a lifetime with God's ever-flowing love.
Ivy Chapel's VBS runs from July 23-27, 9 a.m. to noon each day. It's a weeklong exploration of stories, activities, snacks and fun for kids aged 3 years to 5th grade. It all happens right here at Ivy Chapel in Chesterfield.
The cost is $25 per child.
Questions? Reach out to us, or give us a call at 314-434-4991. Ready to register? Use the attached form, and return or mail to:
Ivy Chapel – VBS
620 N. Woods Mill Road
Chesterfield, MO  63017
Thank you to the army of volunteers and crew leaders who came out of their shells and swam upstream to entertain the surfers at the 2016 VBS… the Surf Shack! We rode the wave of God's love all week long!
Come one, come all to the 15th annual Ivy Chapel Blessing of the Animals. That's right – all! Dogs, cats, ferrets, turtles… creatures of all sorts are welcome for a special afternoon celebrating God's creatures.
Bring your pets (on a leash or in a cage, please) to Ivy Chapel (620 N. Woods Mill in Chesterfield) between 1 and 3 p.m. on Sept. 19. We'll have refreshments both for humans and their companions.
This year we will be supporting Bi-State Pet Food Pantry. They work to keep pets and people together by providing pet food to low income families who would otherwise feel compelled to surrender or abandon their pet. In addition to monetary donations, dry pet food (even taped closed partial bags) will be accepted but the following are also desired: toys and treats for cats and dogs, pet beds, leashes, collars, bowls, cat litter and scratching posts, and wet food for both cats and dogs.
Questions? Send us an email and we'll help you find the answer.
We're all artists at heart… and that was very much on display at the first-ever Ivy Chapel Chalk Festival. Check out our slideshow from the event:
Join us this summer for Ivy Chapel UCC's Vacation Bible School… Conquering Challenges with God's Mighty Power.
Your kids (ages 3 through completed grade 5) will go on exciting expeditions… reaching new heights from our Base Camp Sing & Play, Glacier Games, Cinema and a Summit Celebration.
Together, we will explore tremendous examples how:
God has the power to provide.
God has the power to comfort.
God has the power to heal.
God has the power to forgive.
God has the power to love us forever.
VBS is 9 a.m. to Noon, July 27-31. The cost is $25 per child.
Download the registration form here.
If you have any questions, please get in touch.
Have you liked Ivy Chapel on Facebook? Visit our special VBS event page, RSVP, and let us know you're coming.
We had quite a crew on hand on Saturday to help decorate Easter Cookies. Thanks to everyone who joined us… and to those who helped organize and clean up the colorful, sticky mess we left behind.
Here's the schedule for tomorrow:
6:30 sunrise worship here at Ivy Chapel
7:30 pancake breakfast
10:00 worship
Coffee & cookie pick-up after worship
Check out the pictures of our cookie adventure here on Flickr or visit our Facebook page.
Thank you to our incredible team of volunteers who made the 2013 Ivy Chapel Spaghetti Dinner a huge success! We had a steady crowd most of the evening. Watch this space for more updates, kudos… and keep watching this website for details about upcoming events.
You can view the entire photo album on our Facebook Page. (And while you're there, be sure to like our page!)
The  annual Open Your Heart dinner-auction benefits residents of Emmaus, a faith-based organization serving more than 250 men and women with developmental disabilities in the St. Louis metropolitan area.  As in the past, this year's event, held February 4, netted thousands of dollars to help supplement governmental funding for Emmaus.  For every $1 needed to cover program and operating expenses, there's a 15 cent shortfall in state support.  The Emmaus Foundation is charged with raising funds to close the gap between government payments and actual costs.  The 2012 OYH gala raised just over $50,000.  Attending from Ivy Chapel UCC were Ronn and Dottie Foster; Rod and Judy Hertenstein; Carl and Marsha Ramey; Annie and Shyam Sampath; Nancy Litzinger; and Nancy Hawkins.
The first Emmaus homes were established in 1893 by members of the German Evangelical Church in Marthasville, Mo., to care for individuals with epilepsy and developmental disabilities.  Currently Emmaus operates nearly 50 homes throughout local communities and on its two campuses in St. Charles and Marthasville.  In 2011, Ivy Chapel UCC 'adopted' Ross House, a community home in Creve Coeur where six Emmaus residents live.  Ivy members and Ross residents are developing new relationships through this pilot partnership.
Thank you to Brandi Brown Photography for capturing the event in pictures, and for sharing the photos with us.