We want to help make sure every student in the St. Louis area has the school supplies they need to start the year in comfort and style. We're proud to support Isaiah 58 Ministries' Back to School Drive. This year, they're requesting all sizes of girls' and boys' socks and underwear. And for good measure, we're throwing in a challenge: Help us collect 250 rulers to donate to the drive.
Please drop off your donations at Ivy Chapel by August 15, 2021.
Questions? Want to help, but would prefer to donate money? We'll be happy to do the shopping for you. Leave a message at the office at (314) 434-4991 or send us an email.
Thank you for joining us on the second Sunday in Lent. A note that we will continue online worship, but will be welcoming you back into our sanctuary beginning next week. Registration is required – click here to learn more.
Here is the order for worship:
Prelude – Anna DiVesta
Responsive Call to Worship – Pastor Dan Wilson
One: In Christ, God offers all people a holy invitation.
All: We are invited to walk with God.
One: Turn to God, all the earth.
All: God not only speaks, but God also listens.
One: God hears our prayers, and God answers.
All: Let us exalt God with our praises now!
Hymn – Come, Holy Spirit – worship booklet, p. 35
Come as a wisdom to children, Come as a new sight to the blind,
Come, Lord, as strength to my weakness, Take me: soul, body and mind.
RERAIN
Come Holy Spirit, I need You, Come, sweet Spirit, I pray;
Come in Your strength and Your power, Come in Your own gentle way.
Come as a rest to the weary, Come as a balm for the sore,
Come as a dew to my dryness: Fill me with joy evermore,
REFRAIN
Come like a spring in the desert, Come to the withered of soul;
O let Your sweet healing power, Touch me and make me whole.
REFRAIN
Prayer of Invocation – Pastor Dan
One: Let us pray.
All: God, we long to live faithfully. We long to walk in the ways of Christ.
To do this, we need the light and the salvation you offer. Come to us this morning.
Come; fill us with your grace and mercy. Open our hearts in new ways to the promise of your healing grace.
God of Life, we want you to be the One we serve. We want you to lead us. Strengthen us to overcome any influences that are threatening to mislead us. Fill us with faith in you. May our love for you and our devotion to you continue growing. Amen.
Response – El Shaddai – #18
El Shaddai, El Shaddai, El Elyon na Adonai;
Age to age you're still the same by the power of the name
El Shaddai, El shaddai. Er kahn ka na Adonai;
We will praise and lie You high, EL Shaddai.
Children's Message – Sue Wilson
God's Word – Psalm 22:1-2, 22-31 – Pastor Dan
Special Music – Just a Closer Walk with Thee
God's Word – Mark 8:31-38 – Pastor Dan
Sermon – Pastor Dan
Prayers of God's Church concluding with the Lord's Prayer – Pastor Dan
Hymn – Nearer, My God, to Thee – #436
Nearer, my God, to Thee, Nearer to Thee!
E'en though it be a cross That raises me;
Still all my song shall be, Nearer my God to Thee,
Nearer, my God, to Thee, Nearer to Thee.
Though like the wanderer, The sun gone down,
Darkness be over me, My rest a stone;
Yet in my dreams I'd be Nearer my God to Thee,
Nearer, my God, to Thee, Nearer to Thee.
There let the way appear Steps unto heav'n'
All that Thou sendest me In mercy giv'n;
Angels to beckon me Nearer my God to Thee,
Nearer, my God, to Thee, Nearer to Thee. use,
Then, with my waking thoughts Bright with Thy praise
Out of my stony griefs, Bethel I'll raise;
So by my woes to be Nearer my God to Thee,
Nearer, my God to Thee, Nearer to Thee.
Or if on joyful wing, Clearing the sky,
Sun, moon, and stars forgot, Upward I fly,
Still all my song shall be Nearer my God to Thee,
Nearer, my God to Thee, Nearer to Thee.
Benediction – Pastor Dan
Postlude – Anna DiVesta
This week's hymns:
It Took a Miracle
My Father is omnipotent, And that you can't deny;
A God of might and miracles – 'Tis written in the sky.
REFRAIN
It took a miracle to put the stars in place,
It took a miracle to hang the world in space;
But when He saved my soul, Cleansed and made me whole,
It took a miracle of love and Grace.
Tho' here His glory has been shown, We still can't fully see
The wonders of His might, His throne, 'Twill take eternity.
REFRAIN
The Bible tells us of His pow'r And wisdom all way thro':
And every little bird and flow'r Are testimonies, too.
REFRAIN
Here, O my Lord, I see Thee
Here, O my Lord, I see Thee face to face;
Here would I touch and handle things unseen,
Here grasp with firmer hand th'eternal grace,
And all my weariness upon Thee lean.
Here would I feed upon the bread of God;
Here drink with Thee the royal wine of heav'n;
Here would I lay aside each earthly load,
Here taste afresh the calm of sin forgiv'n.
I have no help but Thine; nor do I need
Another arm save Thine to lean upon;
It is enough, my Lord, enough indeed;
My strength is in Thy might, Thy might alone.
Mine is the sin, but Thine the righteousness;
Mine is the guilt, but Thine the cleansing blood.
Here is my robe, my refuge, and my peace,
Ty blood, Thy righteousness, O Lord, my God.


CCLI License #456361
Thank you for joining us again this week for worship. We pray that, even when it may be hard to find, you can see hope in this world.
The Peace of Mind That Christ Can Bring
The peace of mind that Christ can bring Is peace in knowing how to sing
In spite of doubts of why or how, In spite of fears of here and now.
The peace that strengthens faithful souls Cannot be built on self-made goals,
But rather comes to those wo heed A call for help in time of need.
So one finds peace within the heart when each with others bears a part.
When peace for me is peace for you, Then Christ is present, peace is true.
So Christ, invade our life and will Until we see your justice still
Defining best all human worth, Reshaping dreams of peace on earth.
You Are My All In All
You are my strength when I am weak, You are the treasure that I seek.
You are my all in all.
Seeking you as a precious jewel; Lord, to give up, I'd be a fool,
Your are my all in all.
REFRAIN
Jesus, Lamb of God, Worthy is Your name.
Jesus, Lamb of God, Worthy is Your name.
Taking my sin, my cross, my shame; Rising again, I bless Your name,
You are my all in all.
When I fall down You pick me up; When I am dry you fill my cup,
You are my all in all.
REFRAIN
CCLI License #456361
We are glad you could join us again for this week's virtual worship, the fourth Sunday of Easter.
More Love to Thee
More love to Thee, O Christ, More love to thee!
Hear Thou the prayer I make on bended knee;
This is my earnest plea: More love, O Christ, to Thee,
More love to Thee, More love to Thee!
Once earthly joy I craved, Sought peace and rest;
Now Thee alone I seek, Give what is best;
This all my prayer shall be: More love, O Christ, to Thee,
More love to Thee, More love to Thee!
Let sorrow do its work, Send grief and pain;
Sweet are Thy messengers, Sweet their refrain;
When they can sing with me: More love, O Christ, to Thee,
More love to Thee, More love to Thee!
Then shall my latest breath Whisper Thy praise;
This be the parting cry My heart shall raise;
This still its prayer shall be: More love, O Christ, to Thee,
More love to Thee, More love to Thee!
Spirit Song
O let the Son of God enfold you with his Spirit and his love,
let Him fill your life and satisfy your soul.
O let him have the things that hold you and his Spirit, like a dove,
will descend upon your life and make you whole.
Refrain
Jesus, come and fill your lambs.
Jesus, O Jesus, come and fill your lambs.
O come and sing t his song with gladness as you r hearts are filled with joy,
lift your hands in sweet surrender to his name.
O give him all your tears and sadness, give him all your years of pain
and you'll enter into life in Jesus' name.
Refrain
Did you know that when you donate blood, you could save up to three lives? That's an especially important fact as we head into the late spring and summer, when blood supply is low – but the need for blood is especially high.
Register today for the May 14 Blood Drive at Ivy Chapel United Church of Christ in Chesterfield. Donation times are available between 3 and 7 p.m.
Visit www.bloodcenterIMPACT.org to sign up. (You may have to set up an account on the site to register.) Use Sponsor Code 10670 to schedule your time slot.
Questions? Send us an email or get in touch with Sue Wilson at 314-324-3765.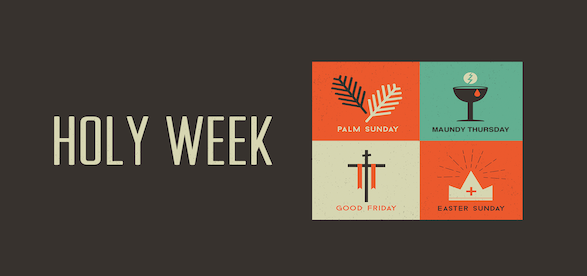 Join us here at Ivy Chapel as we celebrate Holy Week, and mark the journey to Easter.
Sunday, April 14 at 10 a.m. for Palm Sunday worship as we celebrate Jesus' entry into Jerusalem.
Thursday, April 19 at 7:30 p.m. for Maundy Thursday, sometimes called Holy Thursday, the night of the Last Supper.
Friday, April 20 at 7:30 p.m. for Good Friday worship commemorating the crucifixion of Christ.
On Easter Sunday, at 6:30 a.m. we gather for Sunrise Worship to celebrate the resurrection.
We gather again at 10 a.m for our Easter worship service. He is Risen!
Giving is Christian outreach "Ivy-style"! Our congregation is responding to multiple offering invitations this Lenten Season. We give God glory for the many, additional ways in which people of Ivy Chapel United Church of Christ are reaching out beyond our church.
Rejoice over this extensive array of things our congregation has done and is doing this Lent: supporting World Vision in connection with Ivy Youth 30-Hour Famine; Lenten canned food drive which will go to three local food pantries; supporting Shannondale, a mission project with the Missouri Mid-south Conference of the UCC with its craft center, lodge for retreats and outdoor programs; supporting Baby Blue Pantry (operating through Wee Care Learning Center of Festus, providing money for baby diapers and formula for families in need); and supporting ecumenical, global ministries by offering gifts to One Great Hour of Sharing (all donations accepted through Easter).
Praise God for Ivy's faithful responses to these invitations to give!
Please send us an email to learn more about the organizations we support, or if you would like to learn how you can help.
You are invited to a vintage (but that does not mean old and stuffy) evening of wine, cheese, appetizers, desserts, music and more. And oh yeah, did we mention the auction? Silent and oral auctions, secret bubbly bags and other surprises are in store all evening long.
Here are the details on HarvestFest 2017:
November 4, 2017
6:30 p.m. – ?
Ivy Chapel United Church of Christ
620 N. Woods Mill Road, Chesterfield
$15 per person in advance, $20 at the door
Proceeds will benefit Ivy Chapel programs.
Looking for a ticket? Have an auction item to donate? Drop us a line or call 314-434-4991 and we'll set you up.
Thank you… and see you there.
Want to help promote HarvestFest? Use these flyers and invitations to spread the word.
Calling all creatures great and small! You're invited to bring your owners (sorry guys, you'll have to be on a leash or in a cage most of the time) to the annual Ivy Chapel Blessing of the Animals.
Here are the details you can pass on to your most important people:
(that is, the people who can drive you to our church):
Blessing of the Animals
at Ivy Chapel UCC
620 N. Woods Mill Road, Chesterfield, MO 63017
1-3 p.m., Saturday, September 16
Please let your owners know that this year, we are partnering with SNUGGLE (Special Needs Under Gentle Guided Love Everyday).
Visit SNUGGLE's website to learn more.
We'll have a collection for SNUGGLE at the event. Items they particularly need include:
bleach
baby receiving blankets
top loading hard carriers
nebulizer
Swisspers cotton balls
By wing or by tail, spread the word to all the critters you know!