Thank you to the Missouri Mid-South Conference of the United Church of Christ for giving Pastor Dan and our worship leaders a chance to rest after a busy Holy Week.
They have provided this week's Virtual Worship Experience.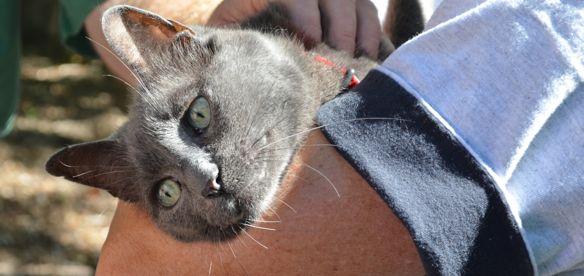 We celebrated the 13th Annual Ivy Chapel Blessing of the Animals on Saturday, September 21.
It was a beautiful day… and this led us to talk about just how lucky we have been through the years to have such wonderful weather. We've only had two or three years that were even threatened by rain, and only two that forced us to (slightly) change plans.
Thanks to all the pets who begged their owners to come to the Blessing. See you next year!
Click here to a view a slideshow of the photos.
If you were there and would like a copy of a photo, please send us an email with a description and we'll email it back to you.
Thank you to our incredible team of volunteers who made the 2013 Ivy Chapel Spaghetti Dinner a huge success! We had a steady crowd most of the evening. Watch this space for more updates, kudos… and keep watching this website for details about upcoming events.
You can view the entire photo album on our Facebook Page. (And while you're there, be sure to like our page!)
Thanks to everyone who came out to Ivy Chapel's Trunk or Treat. We ate – and ate some more – while all of the kids enjoyed some Halloween fun in the cool-to-chilly October air.
A special thank you to Linda Lowry for organizing the event and Russ Washburn for his hot-dogging it on the grill.
Check out this slideshow from the event:
(The slideshow may not work on mobile browsers. Click here to view it.)
Throughout our exploration of how to grow our church, we have challenged our members to come up with both public and private "What if?" statements. Some of these have been shared, paper leaves hanging from the vine in the church's narthex.
One of the earliest leaves carried a potentially loaded message: "What if we all talked to more people during coffee hour?"
The message, of course, is that to be truly open, friendly and welcoming, we have to be, well, friendly and welcoming.
This article in the St. Louis Post-Dispatch drives this point home.
What do you think? What can we do as a church to continue growing, furthering our mission?
We hope you were able to join us as we kicked off the new Sunday school year in grand style, with our (now) traditional outdoor worship! The kids encircled the pavilion making a joyful noise with their musical instruments.
Our 2011-12 youth program is already off to a great start!
Thanks to Judy Hertenstein, who recently presented her own "What if" moment during worship.
Imagine What's Possible! That was the theme for the Missouri Mid South Annual Gathering last weekend. There were a multitude of What If ideas presented from the "imagine a New World" where we are all One to individual ideas. As religion has been used as an excuse for war, we need to recognize our unity and to become One body in Christ. We can share diverse gifts and talents in the common cause of serving in the name of God. What if we looked at everyone out of love? Not only those in our family or close friends but also the stranger on the street, even the drug addict, the convict…they are all children of God. What If we reached out to each other intentionally? There are many who lack Hope because of their situations…unemployment, health issues, financial worries, grieving, family dysfunction, and others. What If we really listened to what others have to say not just with our ears but with our hearts also? What If we reached out to each other with the real desire to understand each other and a willingness to work together? Giving Hope improves relationships. With LOVE and HOPE, JOY can follow as we serve Christ as ONE body. Imagine What's Possible!
What If each Sunday we really heard the story again as if hearing it for the first time? We need to really listen, not only with our ears but with our heart. And not only on Sunday, but in our daily prayer and Bible reading, really listen for what God is saying to us. We may hear God's plan for us. We need to realize that God's plan is not always our plan…deep listening may give us a better picture. Imagine What's Possible!
As we are looking at growing the vine together, we are in fact growing in numbers. We will be welcoming new members on July 24. This is good, but that is not the only way we can grow. What If on Rally Day we all wore something green or something with Ivy, not just the word, but perhaps a picture? And here's a novel idea, What If some other Sunday we all wore hats? These are just other fun ways to say we are a family. Let's become a true community of Christ…every member contributing unique gifts and using those gifts for the work of Christ. All things are possible through Christ. Imagine What's Possible!
The Conference Annual Gathering was a wonderful event. Of course there's the business of the Conference—including the annual budget proposal. The deficit is finally becoming manageable due to some restructuring, sound investing and local church support through OCWM. Then there is the good food and fellowship. It is like a yearly family reunion with members of all UCC churches across the conference reconnecting, sharing, praying, singing and playing together. I even got to play pinochle with Jeff Whitman, our Conference Minister and with a classmate from 40 years ago. What If a group of us went to the Conference Annual Gathering next year? Everyone is welcoming and caring. Imagine What's Possible!
Other What Ifs dealt with local church…What If we changed our worship service to be less predictable…more variety in music? What If we changed the rhythm and style of some well known hymns…not all the time but occasionally…a little jazz, a little gospel, a little rock and roll? We do some of this on special Sundays, like camp Sunday and Youth Sunday, but how about other times. What If we became a part of the Creative Faith Project? Think of all the ways art…in all its many forms…drama, painting, dance, handicrafts, music…can be a part of the worship experience. This would be another opportunity to revitalize Ivy Chapel. Imagine What's Possible!
How do you unlock what's possible? What's your "what if"?
Thanks to Ivy Chapel member Jo Ann Moody, who recently shared her "What if" reflection with the congregation during worship.
How many of you were here the cold Sunday morning in late January, when Dan announced Ivy Chapel was initiating a "Growing the Vine Together" theme and we planted sprigs of ivy in these two planters? I imagine there was some skepticism the plantings would grow, and the theme would catch-on. But here we are, it is early June and look what has been accomplished!
With careful tending and nurturing by Ivy members with gardening expertise, we continue to have ivy growing and thriving in these specially decorated pots. Perhaps one of these surviving vines is one you planted! Question is, who is the Gardener helping Ivy Chapel UCC to grow and strengthen our vines?
I suggest God's Holy Spirit is among us, helping us find our roots and spread our shoots. The Holy Spirit is taking our "Growing the Vine Together" journey with us, nurturing our ideas and giving us strength to stretch and grow in ways we can only imagine.
Early in this process, I remember hearing a trustee say, "What if we grew enough ivy to cover Ivy Chapel's big hill so it would not have to be mowed?" What an idea, that a few sprigs, planted on a cold Sunday in January, would survive and eventually grow to spread their beauty beyond these two pots, and provide a benefit far beyond today's simple existence.
What if our ideas and actions coming from our "Growing the Vine Together" initiative creates new roots here at Ivy Chapel, and off-shoots in our community and elsewhere, that has far more reaching impact than envisioned today!
What if we accept God's gift of Grace and fully invite the Holy Spirit to be a part of our own journey and Ivy Chapel's journey? What if we used this journey to take our theme to another level, one where we "Love God; follow Christ; serve others."
Imagine the possibilities!
What do you think? What can we do to grow?
What if you shared your church with just one person?
What would be the impact on your fellow members? On your church? On your friend?
What if everyone did the same?
What if everyone invited a friend to church on Sunday? Or to the church picnic? Or bible study?
Sharing your love for your church and for God isn't hard, is it?
What do you think will happen?