Did you know that babies require up to 12 diapers per day – which can cost up to $100 per month? That's nearly 10% of someone's yearly income living at the poverty line. But you can't buy diapers with food stamps or get them through the WIC program.
Ivy Chapel wants to help! We're joining the St. Louis Area Diaper Bank's FILL THE WAREHOUSE campaign. Now through October 10th, we're collecting size 5 and 6 diapers in the narthex.
Questions? Drop us a line.
We're proud to announce the Ivy Chapel Blessing of the Animals is back for 2021.
Over the past 21 years in mid-September, we've welcomed dogs, cats, snakes, ferrets and creatures of all kinds to our beautiful pavilion. Following in the tradition of St. Francis of Assisi, we take this moment to bless the animals with whom we share our homes and our planet.
Join us on Saturday, September 18 from 1-3 p.m., bring your animal friends (on a leash our in a carrier) with you to Ivy Chapel United Church of Christ, 620 N. Woods Mill Road in Chesterfield, MO.
We'll share a short prayer and you will receive a personal blessing.
This year we're supporting the Center for Animal Rescue and Enrichment. Care STL is the official no-kill shelter of the City of St. Louis. You can support Care STL with a cash donation, or by purchasing items on their Amazon wish list.
We can't wait to meet you – and your animals. See you then. Questions? Drop us a line.
Music is a huge part of worship here at Ivy Chapel. We're looking for an experienced leader to lead our music program.

Reports to: Board of Deacons
Hours: 20 hours per week, including some evenings

Responsibilities include, but are not limited to, the following:
• Provide music for all regular Sunday morning services of worship (prelude, hymns, special music, postlude, etc.)
• Provide music for additional services of worship (i.e. Christmas Eve, Ash Wednesday, Maundy Thursday, Good Friday, Easter Sunrise, and Thanksgiving)
• Work with the Pastor in the planning of all worship services to assure theological integrity and coordinate with the liturgy and worship themes
• Direct the Chancel Choir, including programming music as well as rehearsing, accompanying, and directing the choir (the Chancel Choir typically sings September through June, but is not singing at the moment due to COVID)
•Participate in the Youth Music Ministry and direct the Youth Choir (currently not active)
• Secure a substitute organist for agreed upon vacation periods and for any times of sickness or pre-arranged leaves of absence
• Arrange regular maintenance of and have authority over all church owned musical instruments and equipment
Obtain copyright licenses yearly

Qualifications:
• Piano and organ skills
• BA in Music or experience in comparable positions
• Choir directing experience preferred

Requirements:
• 21 years of age or older
• Must pass a personal background check

Benefits:
• Two weeks of vacation annually, to be increased to three weeks after three years of service and four weeks after six years of service (such vacations shall not coincide with the Pastor's vacation if at all possible)
• Continuing education opportunities as outlined by and negotiated with the Board of Deacons
• The opportunity to play for weddings and funerals at Ivy Chapel at additional compensation
• May use church facilities for private lessons and studio recitals
Send a cover letter and resume to: momsearch@ivychapel.org.
We'd like to extend a special thank you to everyone at Ivy Chapel who donated to the Isaiah 58 back-to-school drive.
We were able to help brighten the start of the school year for so many children right here in St. Louis.
Our little congregation donated:
251 rulers
21 t-shirts
223 pairs of underwear
231 pairs of socks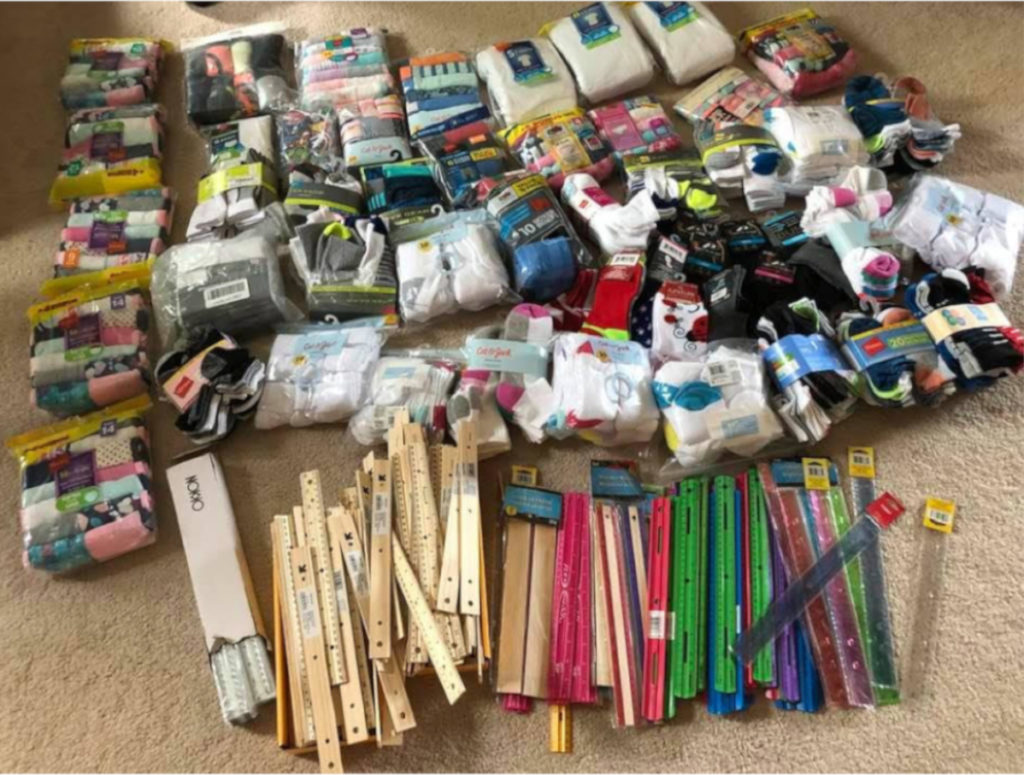 Thank you to everyone who donated!
As we continue to work toward the "next normal," we're hiring for a Youth Ministry Coordinator to lead programs for our young people. Please send your resume, cover letter, and a list of three references to ymcsearch@ivychapel.org.
Job Title: Youth Ministry Coordinator
Reports to: Board of Christian Education and Pastor
Hours: Part-time (20 hours per week, including some evenings)
Effective Start Date: Immediately
Job Description: The Youth Ministry Coordinator at Ivy Chapel United Church of Christ will create opportunities for all ages of youth to develop their faith and build connections within the church. The successful candidate will develop and lead a growing youth program. This person also will work with the worship team to plan a cohesive Sunday worship experience.
Essential Responsibilities Include:
Youth Groups
Coordinate local church and wider church youth activities.
Work with families of youth to develop an activities calendar each year.
Make arrangements for summer mission trips.
Co-lead Confirmation with the Pastor.
Worship Services
Present and/or schedule children's messages during Sunday morning worship.
Lead children's worship activities on the first Sunday of each month.
Coordinate children's Christmas Program and Youth Sunday.
Facilitate youth participation in worship, such as serving as acolytes, lay liturgists, musicians, etc.
Communication and Reporting Duties
Provide communication between the youth groups and the congregation through notices in the Sunday bulletin and the monthly Ivy Vine newsletter.
Keep accurate records of all youth program funds.
Provide a monthly written report to the church council.
Christian Education Board Involvement
Participate in all Christian Education Board Meetings.
Work with the board to provide Sunday School, Vacation Bible School, and other congregational education programs.
Qualifications:
Experience working with children, youth ministry, or within other related fields.
Displays strong administrative, planning, organizational, and communication skills.
Ability to work both independently and cooperatively.
Possesses creativity to develop innovative programming.
Familiarity with the United Church of Christ theology.
Affirming of all people, including support of LGBTQ+ community.
Requirements:
21 years of age or older.
Must pass a personal background check.
Application: Please send your resume, cover letter, and a list of three references to ymcsearch@ivychapel.org.
We want to help make sure every student in the St. Louis area has the school supplies they need to start the year in comfort and style. We're proud to support Isaiah 58 Ministries' Back to School Drive. This year, they're requesting all sizes of girls' and boys' socks and underwear. And for good measure, we're throwing in a challenge: Help us collect 250 rulers to donate to the drive.
Please drop off your donations at Ivy Chapel by August 15, 2021.
Questions? Want to help, but would prefer to donate money? We'll be happy to do the shopping for you. Leave a message at the office at (314) 434-4991 or send us an email.
The world continues to change around us – but we want you to know you are always welcome at Ivy Chapel United Church of Christ. This is the core of who we are – and even as it seems like things are pushing us apart, we want it to be easy to bring everyone together.
We gather for worship every Sunday at 10 a.m. If you know Ivy Chapel, that sometimes means 10:02 a.m. or even 10:05. Check our Facebook page for updates – we'll post there if there is a delay.
Here's how to join us:
In person
You can join us in the sanctuary for worship each Sunday as long as the COVID-19 numbers do not spike again in St. Louis County. Masks are required while you are in the building and you will be seated in a socially distanced manner. Reservations are no longer required. You may join us anytime you want.
Online
We have recently started using a new AV system which changed how we stream worship. Worship will stream live on the Ivy Chapel United Church of Christ YouTube channel. You will find links at the top of this site and on our Facebook page.
If you have any questions, please feel free to reach out to us. We're ready to help you find a way to worship with us that works for you.
The pandemic continues to put a strain on blood supplies nationwide – but you can help. In coordination with Mississippi Valley Regional Blood Center, Ivy Chapel United Church of Christ is hosting a blood drive on Thursday, May 13 from 2:30 to 6:30 p.m.
We will closely be following COVID protocols, including social distancing, so donating blood is safe. If you can donate, please do. It is best to make an appointment at www.bloodcenter.org, or contact Sue Wilson at 314-324-3765 to schedule your time.
1 in 7 Missouri families with children don't have enough to eat every day, according to a December 2020 report by the Annie E. Casey Foundation, an advocate for young people in America. As Christians, and good neighbors, we must respond to this need.
The Ivy Chapel Lenten Food and Personal Care Items Drive continues until Easter. There is STILL TIME to TAKE ACTION and support Circle of Concern and Isaiah 58 Ministries with a much needed gift of food and/or personal care items.
Circle Of Concern: Peanut Butter • Jelly • Graham Crackers • Cereal • Cereal Bars • Oatmeal • Tomato Sauce • Pasta • Mac & Cheese • Hamburger Helper, Tuna Helper • Canned Tuna & Chicken • Canned Vegetables •
Canned Chili • Soup • Shampoo • Conditioner • Laundry Detergent
Isaiah 58: Sardines • Mac & Cheese • Spices • Cereal • Peanut Butter • Jelly • Razors • Shaving Cream • Toothbrushes • Toothpaste • Toilet Bowl Cleaner • Dish Soap
Place items in the large soup can in the Narthex. (New, unopened food and personal care items only, please.)
If you are unable to donate, or would like to donate money for the purchase of items, please send us an email.
We're making a big move on March 6, bringing our livestreams to YouTube for better quality and accessibility. We're debuting a new camera and new audio system, too.
Please help us out by subscribing to our YouTube channel:

In return, you'll receive notifications anytime we go live.
No matter how you join us tomorrow, in person or on the livestream, things will be a little different.

This will be the first time in almost a year we've had people in the sanctuary for worship! It is an exciting time. The experience will still be very different from "normal," but we hope it is an enriching experience for all who are here.For those of you joining us on the livestream, you will notice improved video and sound.
We're making the transition to the new system tomorrow.While it will be better, we can't guarantee there won't be hiccups. Please be patient with us as there's quite a learning curve to get this all running smoothly, and you never know how it's going to go until you're "Live.

Please comment on this post or reach out to Rich Heend if you have any questions.